These beautiful flowers have been used for ages to express sympathy, provide solace, and show respect for the deceased.
Funeral flowers have been powerful emblems of love, respect, and remembering throughout human history. These beautiful flowers have been used for ages to express sympathy, provide solace, and show respect for the deceased. The custom of giving funeral flowers is deeply ingrained in many cultures around the world and reflects the innate human need to express sadness and honor the lives of the deceased.

The history of funeral flowers can be traced back to ancient civilizations, where floral tributes held spiritual and practical significance. In ancient Egypt, elaborate floral arrangements adorned the tombs of pharaohs, symbolizing rebirth and the journey to the afterlife. Similarly, the ancient Greeks and Romans used funeral flowers to express their respect for the deceased and their belief in an afterlife.
Here are some different kinds of funeral sprays and what they actually signify at florist scituate ma-
Standing Sprays
Standing sprays are designed to stand on a tripod or easel and are commonly displayed at funeral services. They come in various shapes and sizes with flower delivery Norwell MA. These often incorporate flowers like lilies, roses, and peace lilies to create a peaceful and sympathetic tribute to the departed. When it comes to standing spray for funerals, commonly used flowers are roses and lilies.
Wreaths
Wreaths are circular floral arrangements that represent eternity and the cycle of life. They are commonly displayed on easels or hung on doors. Peaceful and sympathetic flower arrangements like blue hydrangeas and white chrysanthemums are often used in wreaths to express condolences and provide comfort during times of loss. For flower spray for funerals in a circular shape you can add flowers like red roses, holly, button poms, and lots of greens. Wreaths can go over the casket, and can also be used as a funeral standing spray. With a sculptural florist you can get such arrangements that are usually taken by close family members.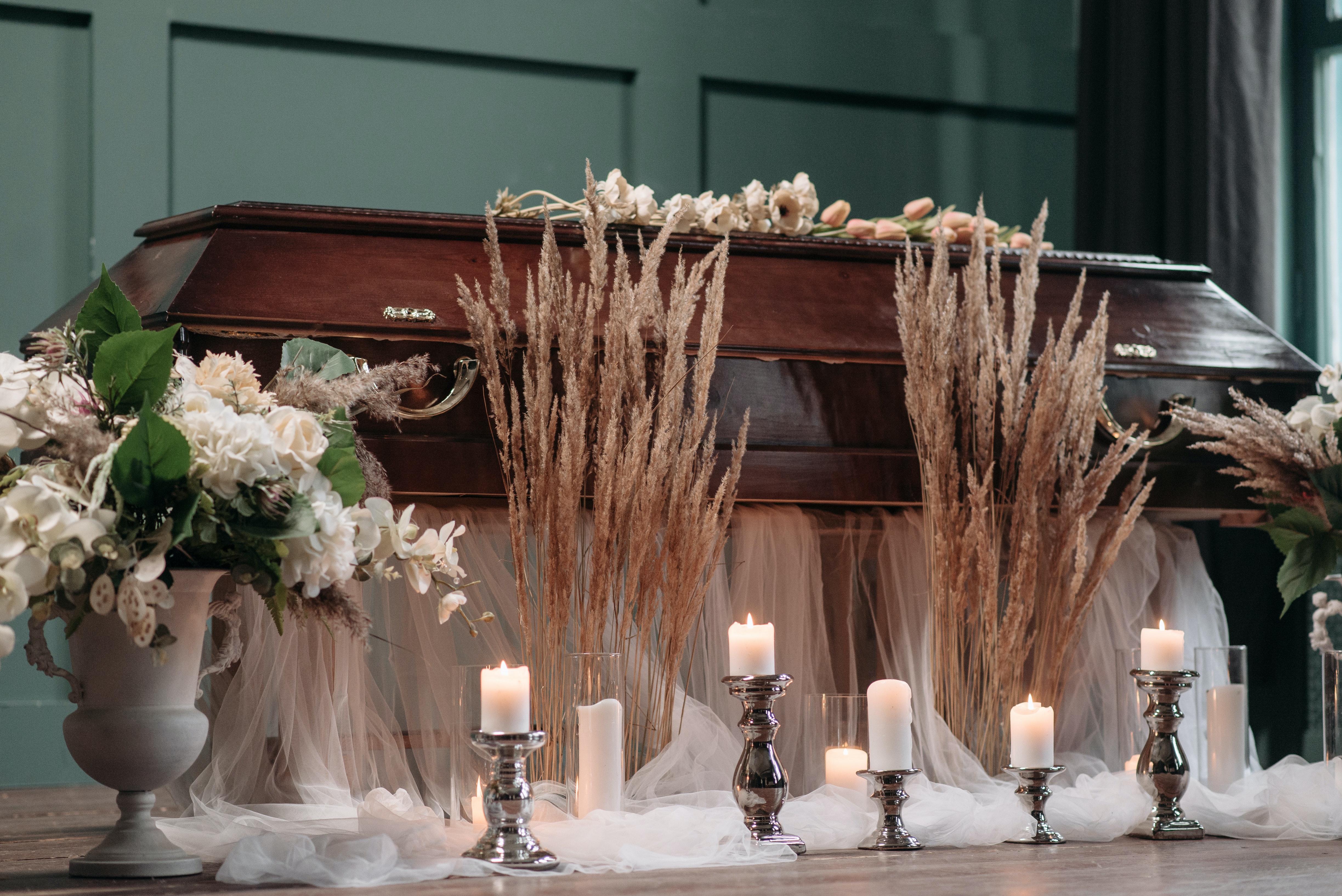 Casket Flower Arrangement
These floral tributes are made to sit directly on top of the casket. They frequently include a combination of flowers like lilies, roses, and chrysanthemums as well as rich greenery, and are typically bigger and more complex. These funeral flowers for casket spray pay ultimate respect to the deceased and represent the affection and respect felt by friends and relatives. With Flowers and Festivities Funeral Sprays delivery Scituate MA arrangements like these that go over the casket can be sent straight to the venue.
Sympathy Baskets
Pink roses, peace lilies, and white chrysanthemums are a few of the flowers that are often included in sympathy floral baskets. They provide a considerate and sympathetic method of expressing sympathy and support to bereaved families.

These Funeral flowers near me hold a timeless and universal significance in human history, and are also easy to find with Hanover florists. These serve as a powerful means of expressing grief, love, and respect for the departed. Their purpose extends beyond mere decoration, offering a language of emotion that transcends cultural and linguistic barriers.